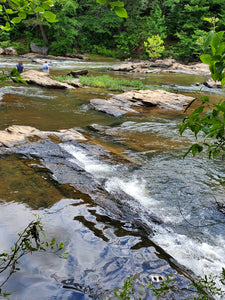 Does Being Outside Make Us Happier?
Being outside does makes us happier.  Spending time outside causes us less stressed, more creativity, and gets us more socially connected.  Medical professions say, it also has the benefit of improving short-term memory and focus, reduces inflammation, lowers blood pressure, fights against anxiety and depression, and boosts our overall immune systems. 
For me personally, its healing for the mind, body, and soul. Now that fall is here, the changing and falling leaves makes you realize that we may only have a season to appreciate meaningful things in life, so we should enjoy them while they present their unyielding beauty to us. My family and I have been able to get out and see people again in passing since restrictions have been lifted.  I think people are more appreciative of their surroundings and the peace it brings them being outdoors.  So even if you can't take that trip to the mountains or festival, why not enjoy a walk through your neighborhood, walk that trail or take that hike you've been meaning to, take a bike ride or camp in the backyard with your family.  
It's up to you to make the most of your time outdoors.  It'll make you happier.
---